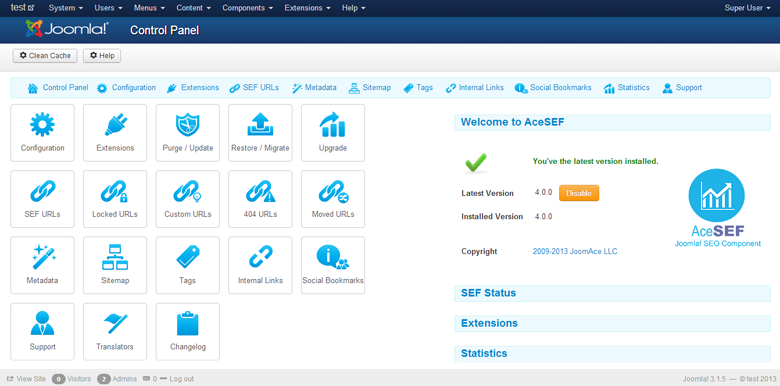 Switching between extensions and modules while updating the website metadata is very time consuming and this extension saved me enormous amounts of time. AceSEF is my favorite SEO extension for Joomla which gives me amazing power in configuring and customizing on-site and technical SEO. There are other options out there, but from my experience, this is the one I like most.
What is AceSEF?
AceSEF is a flexible and powerful SEF (search engine friendly) URLs, Metadata, Sitemap and Tags generator with an easy-to-use graphical user interface that simplifies the management of your site SEO friendliness.
AceSEF supports Joom!Fish integration for multilingual websites, comes with options you can set automatically or manually to generate things such as the metadata or sitemaps, it is also written 100% in a modular way so each component has its own settings.
To provide maximum flexibility, AceSEF uses a plug-in system that allows SEO support for all Joomla components. They are called "
AceSEF extensions
".
What are benefits of using it?
Easy-to-use, customizable user interface translated in 19 languages


Written 100% in modular way


3rd party extensions installation, upgrade and management


250 extensions available for 3rd party components


Generating & updating URLs from backend - make your URL's search engine friendly (even more than the stock core Joomla SEF).


Managed automatic Metadata generation for ALL components - it gives you one central spot to update your entire page meta titles and descriptions.


On-article-edit-page Metadata management


Sitemap for ALL components without plugin obligation


Tags for ALL components without plugin obligation


Internal Links


Social Bookmarks for ALL components without plugin obligation


Basic URL rewriting, no plugin obligation to make SEF URLs for 3rd party components


Joom!Fish support for multilingual sites, translated URLs


Advanced SEF URL rewriting methods management


Advanced cache system


Duplicated URLs management


Alias option for ALL components


Migration from sh404SEF or JoomSEF without losing old SEF URLs


Automatic version checker for component and extensions


On-site automatic upgrades


Customisable 404 page


View all 404 pages and easily setup 301 redirects to the new URL


Extended Google News numbering options


Unicode (UTF-8) URLs


Proved to work both with Apache and IIS


On-site help pages, documentation


Backup/Restore functions
How to use it and where to get help?
You can learn how to use AceSEF extension by browsing the
online User Manual
, FAQ & Video Tutorials, also avalible for download in PDF with a
step by step User Guide
. You can also get professional technician support with one of their
paid subscriptions
.
Where to download it and how much does it cost?
The component comes in free and paid versions. I recommend investing some money to buy the PRO version which offers a few additional options i.e. Copyright Removal, Sitemap, Tags, Internal Links, Social Bookmarks, SEO Point Check.
You can learn more about the different
packages and prices
on their own website.
I hope you enjoyed reading this article. All comments, questions and shares are most welcome. Thank you.